Picture Gallery
Brigham Young and His Wives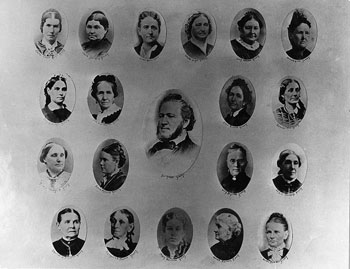 Used by permission, Utah State Historical Society. All rights reserved.

About this artifact
Brigham Young was the founder of Salt Lake City and President of The Church of Jesus Christ of Latter-day Saints from 1847 until his death in 1877. Young was drawn to Mormonism after reading the "Book of Mormon" in 1830. The church and Brigham Young are well known for the practice of polygamy. Young had 56 children by 16 of his wives; 46 of his children reached adulthood. He is pictured in the center with many wives surrounding him.
Dimensions:

Width: 10" Height: 8"
JavaScript required access all features of this site. Use Browser Back to return.